When in Norway - do as the norwegians
Cross country skiing is Norway's national sport - a sport that is really popular among norwegians and is becoming increasingly popular to the new citizens and visitors to Norway too.
With the ski tours in the woods of Oslo, we want you to experience the "roof" and the woods of Oslo by touring the trails with skis. Most of all it is a ski tour, so technical advice will just be "here and there" and when needed. For a ski course, please visit this page, link.

Who can join?
You can come as a beginner, and we will walk in a moderate /slow pace.

Do you need to rent equipment?
You can rent equipment from us for 240 nok. You can come to our office between 9.30 am and 09.50 am in the same morning. After the tour you can give it to your guide.

NB: To register, click "Påmelding" at the time you like in the list below.
We will meet you at the meeting point and wax your skis, so they get a good grip (and so you can see how that's done). Then we are off. We head into the woods. We take the challenges with guidance and smile and support. We will not stress the speed. We want you to enjoy. There are many trails to choose from and the guide will find one that is good for the snow condition of that day and the group.

Number of participants
Minimum number of participants on each tour is 4. If you are only 2-3 persons it will be a tour of 1 hour and 15 minutes. If it is only one we will have to cancel and you get all money back.
If you cannot come
We have no money back if you are sick or do not show up, but please let us know, so that the group do not have to wait for you.
Injuries
Learn2Ski is not responsible for injuries if it ever happens, so this is on your responsibility. Having said that, this is not a high risk sport.
Snow condition
What we have no control over is the snow conditon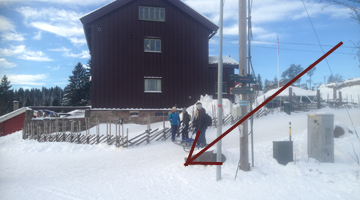 By car: Drive pass the Holmenkollen ski jump. Take right at Frognerseteren. Find a parking and ask for the Hefty-villa. Allow extra time for parking. It is the big house in the group of old houses (see the picture with the arrow). We meet on the southern corner of the house.
Subway: One of the 5 main Tube (subway) lines in Oslo has its final destination Frognerseteren. It is a curvy and slow (but spectaculous!) ride, and from the city centre it takes 34 minutes to get to Frognerseteren. When you arrive at Frognerseteren you walk douwn to big old houses. A 5 minute walk. You will meet us at the big house after passing the big old timber restaurant.